New Life Youth Camp offers new opportunities
Dyersburg mission takes at-risk kids to camp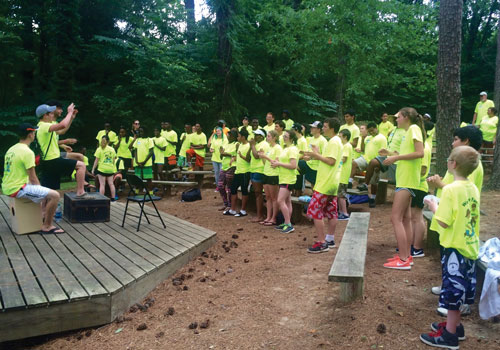 At-risk school children from Northwest Tennessee communities of Dyersburg, Halls and Gates are getting a chance to enjoy one of the best parts about growing up: summer camp.
New Life Youth Camp – operated by New Life Union Mission in Dyersburg – is on a farm just outside of Halls. The Mission owns part of the property, which was donated by Jim and Donna Ewell, and has a multi-year lease agreement to maintain and use the other part of the farm where the camp is held.
Campers enjoy swimming, fishing, kayaking, paddle boards, farm animals, an inflatable water obstacle course and water slide, archery, crafts, chapel, Bible study, hiking, and nature and wildlife presentations. Older campers stay overnight one night in the lodge, grilling out, cooking s'mores over a campfire, hiking and watching a movie.
"We have lots of different activities, and they absolutely enjoy it," said Camp Director Andy Parker. "You can see the reaction on the kids' faces."
The 50-acre property features a pond and trails and several upgrades done as part of local Eagle Scout projects. "It's a really beautiful place," Parker said.
From May 30 to June 29, children in different age groups will come for one week at a time. Age groups include first and second graders, third and fourth graders, fifth and sixth graders, seventh and eighth graders, and high school students.
About 250 students are invited to attend each year after organizers work with school officials to identify at-risk children who would benefit from the experience.
"We go to the Dyersburg and Halls school systems and speak with guidance counselors, and we ask for the children who need help for a variety of reasons," Parker said. "These are the kids that can't afford to go to camp."
The camp is free for the kids, and transportation to and from camp each day is provided. Breakfast and lunch are also provided.
This summer will be the 28th year that New Life Union Mission has operated the camp. The organization also has a youth club program during the school year. To keep the momentum and progress made with the children after they leave camp, many of the children are invited to attend the youth club the following year.
Youth club activities include recreation time, homework time, crafts, Bible study, field trips and 4-H. Both programs are designed to help children be successful in life.
"We want to offer children who won't get an opportunity to do these things the same opportunity that other kids have," Parker said.
When not in use, the mission makes the camp and lodge available for rent by churches. For information about the camp, contact the mission at newlifeunionmission.org or
731-285-0726.