Career Expo Gives Eighth Graders a Look at Possibilities
With the intention of developing a future workforce pipeline, the Second Annual West Tennessee Pathways2Possibilities Career Expo was held for eighth graders in March.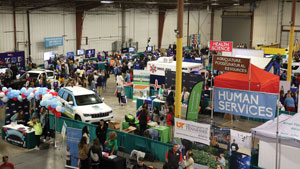 Merging student interests with corresponding activities, more than 250 exhibitors demonstrated to students that there is a path to a successful career close to home.
HTL Advantage—an economic development initiative of Haywood, Tipton and Lauderdale counties, and a founding sponsor of the P2P event in 2020—once again helped welcome more than 3,000 eighth graders to Ripley Power and Light's multipurpose complex in Ripley.
The students—who traveled from public, private and homeschools across 10 counties in West Tennessee—were introduced to the opportunities that await them at the many businesses and postsecondary schools in the region.
With the help of more than 100 community volunteers, students encountered 85 interactive activities designed to promote awareness of the link between their educational choices and future employment.
Many community programs target early literacy and elementary school students or hold career fairs for high school seniors. This career expo—modeled on a similar P2P exhibition that has been held in Mississippi since 2013—targets eighth graders, said Robin Sealy, Tipton County Workforce Development Coordinator.
"These students are about to register for high school classes and start planning a path that they can take to assist their successful careers," Sealy said. "We've learned through studies that if students can connect their curriculum to a career, they're going to be much more likely to be successful in those classes."
The expo featured 18 career sectors that are in high demand in West Tennessee, including energy, health care, transportation and manufacturing. Exhibits were provided by private businesses, municipal and public services, and post-secondary schools, such as Dyersburg State Community College and Tennessee College of Applied Technology.
This "shows that you can start a path to every career sector at a community college," Sealy said. Many of the attendees visited Ripley Power and Light's exhibit, where President and CEO Mike Allmand was on hand to talk with students.
Ford Motor Co. also generated excitement as the future construction of Blue Oval City coincides with this targeted age group.
The interactive exhibits helped students engage in simulations of how their talents might be used at work, including wearing firefighting gear and performing a mock rescue, reviving patients in an ambulance, flying drones and piloting a plane.
Five-year studies of the P2P event in Mississippi have shown the clear impact it has on the career path of eighth grade students, Sealy said.
Surveys were conducted in the weeks a er the West Tennessee expo. Students responded that the expo was a good use of their time. Exhibitor surveys showed a 100 percent response rate that students were engaged in their displays and asking questions. Teachers and guidance counselors responded to their surveys with the most-discussed topics among their students after the expo.
Every one of the 18 career sectors represented was mentioned as a favorite by at least one school.
The P2P Career Expo grew in size and interest this year, after being postponed in 2021, Sealy said.
"We are planning for this to be an annual event. It really exposes these kids to careers that they might not have known we had here in West Tennessee."