ABC miniseries features 'Women of the Movement'
In late summer 1955, a 14-year-old boy from Chicago was murdered outside a small town in the Mississippi Delta. His story will be told in an upcoming ABC-TV miniseries that was filmed, in part, in Lauderdale County.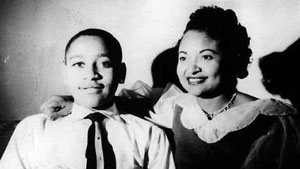 Emmett Till was visiting relatives in Money, Mississippi, when he was accused of flirting – though, to what degree is in dispute – with a white woman at a grocery store. A few nights later, that woman's husband and another man kidnapped Till and murdered him.
In 1956, with protection from the legal doctrine double jeopardy, the men admitted their crimes in a magazine interview.
The murder drew attention to the violence faced by African Americans at the hands of white people in the Jim Crow South – especially after Till's mother, Mamie Till-Mobley, insisted on an open-casket funeral. The service was attended by more than 50,000 mourners, as well as the news media.
It was a watershed moment, and Till-Mobley would become a crusader for justice and civil rights Till-Mobley's life and her activism is the focus of an ABC-TV miniseries produced by Will Smith and Jay-Z that will include a remote spot off Highway 19 in Lauderdale County among its filming locations. Production began in late January in Memphis.
Till-Mobley will be played by Adrienne Warren, who was nominated for a Tony Award for her role in "Tina: The Tina Turner Musical." Emmy-winning actress Niecy Nash and Ray Fisher are also part of the cast.
The director of the first episode is Gina Prince-Bythewood, who directed "Love & Basketball" in 2000 and "The Old Guard," which premiered in 2020 on Netflix and starred Charlize Theron. The six-part miniseries was written and created by Marissa Jo Cerar, who is a producer and writer on Hulu's "The Handmaids Tale." Her writing credits also include "13 Reasons Why" and "The Fosters."