Two longtime employees retire
Lucy Harrison: Started as teller & accountant, retires as Ripley office manager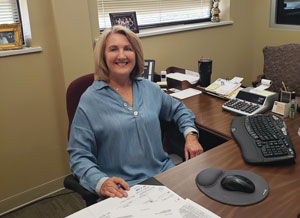 In 1982, Lucy Harrison submitted a job application with Ripley Power and Light Company, not knowing if a job opening even existed. Forty years later, on May 31, Harrison retired as Ripley's office manager.
Born in Ripley, the youngest of eight children, Harrison graduated from Ripley High School and attended Dyersburg State Community College, intending to pursue a career as a school teacher.
She transferred to Memphis State University a er one year. She worked at American Greetings while attending college. A layoff from that company led Harrison to Ripley Power and Light, where she was interviewed by then-Office Manager Jane Meadows. She was hired as a teller and began doing the accounts payable.
For a while a er starting at the utility, "I still had in the back of my mind that I wanted to be a school teacher," Lucy said.
After substitute teaching a few times, she decided she preferred accounting. Harrison continued to pursue her degree and graduated in 1986 with a bachelor's in accounting.
She was Ripley Power and Light's accountant for more than 20 years. When Meadows retired, Harrison was promoted to Ripley office manager.
Lucy and her husband, Mark, have three daughters: Christie, Caitlyn and Carly.
Lucy is excited about retirement because that means she will have more time to travel and enjoy her other interests: hiking, daily workouts trying to stay fit, scrapbooking, gardening and helping with her grandchildren.
"I have a lot of things planned," she said.
Her first trip is to Washington and Oregon this summer with Caitlyn and Carly. She and her husband travel to Boston this fall.
Working at Ripley Power and Light "has been a good job for me," Lucy said. "It's been great to work here."
Lynnwood Jackson: Purchasing agent also handled inventory control and warehousing operations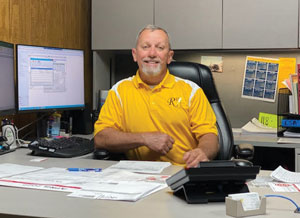 With the encouragement of a family friend, Lynnwood Jackson reached out to Ripley Power and Light Company when his workplace closed. That was nearly 30 years ago. Jackson retired May 31 as the utility's purchasing agent.
Jackson, who was born in Ripley and graduated from Ripley High School, was traffic manager and distribution logistics consultant for Maremont Corp. in Ripley, Loudon and Nashville until 1989. He was working at CR Services in Memphis when that company shuttered in 1993.
"I wanted to stay local," Lynnwood said. "I knew the power company was a good company, stable, would always be in Ripley, and offered potential for growth."
With encouragement from Morris Worlds, Ripley Power and Light's operations superintendent, Jackson applied and got the job working field operations for a line crew. He was promoted to purchasing agent in 1997, also handling inventory control and warehousing operations.
Lynnwood and his wife, Dianna, have four children: Leslie Carter, who has two children, Mady and Jackson; Lindsey Cooper, who has one child, Raleigh; Torrie Morris; and Zach Carver.
Lynnwood's last day of work comes just in time to enjoy the summer with his family in their new swimming pool. He calls himself "an active person" and will devote time to yardwork, gardening, running and going to the gym. He and his wife also like to travel.
While he "absolutely" will miss working at Ripley Power and Light, he appreciates the opportunity to retire.
"I'm still in good health," he said. "I want to spend some years doing what I want to do when I want to do it."