Safety Practices Earn First-Place National Award
Ripley Power & Light was honored with the American Public Power Association's Safety Award of Excellence for safe operating practices in 2021—the company's seventh consecutive win.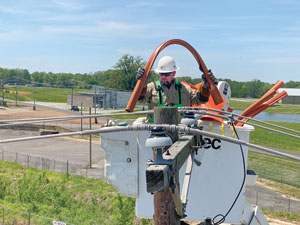 In the category for utilities with 60,000 to 109,999 worker-hours of annual exposure, Ripley Power & Light earned first place for safety practices among its electrical workers. The utility had 65,284 worker-hours of exposure in 2021—an increase from past years—and still maintained the fewest number of work-related injuries or illnesses for the year.
The annual safety awards had 318 entrants from across the country. Categories were determined by the number of worker-hours during 2021. Entrants were ranked by the most incident-free records for the year. Those are reports filed by employees who work directly with electrical lines and equipment. The Occupational Safety and Health Administration keeps track of work-related reportable injuries and illnesses, and uses those numbers to determine which utility companies have the most effective safety practices for their workers.
"Ripley Power and Light values employee safety above all else," said Ripley Power and Light President/CEO Mike Allmand. "We all recognize the importance of going home to our families each day. This is what drives our dedication to safety."
APPA has issued its annual safety awards for more than 65 years.