Our gratitude to all veterans
Ripley Power and Light Company thanks all local veterans for their service. This issue of "Tennessee Connections" highlights veterans who are Ripley Power and Light board members, employees and retirees.
Lauderdale County Veterans Services asks all veterans to contact its office at 731-635-3005 or the Chamber with your name, address, phone number and email address so that you can be included in the 2nd Annual Veterans Parade Nov. 10. The parade begins at 9:30 and is followed by a church service and meal at First United Methodist Church.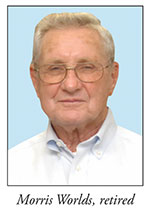 Morris and Clara Worlds were newlyweds when Morris was drafted into the U.S. Army in 1951. He served in Korea as a cook behind the combat lines.
He returned to his family in 1953 after serving two years.
Morris then spent 55 years working at Ripley Power and Light, retiring as Operations Superintendent. He and Clara have been married 68 years.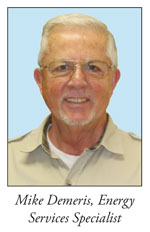 Mike Demeris was living in the Harvey, Ill., YMCA and working in a factory. When he turned 17, he walked across the street to the U.S. Air Force recruiting office in the post office and enlisted. It was 1959.
After training at Lackland Air Force Base in Texas and Keesler Air Force Base in Biloxi, Miss., Demeris spent the next four years working in communications intelligence.
A high school dropout, Demeris earned his GED in the Air Force and today has courses towards a master's degree.
His stint in the military was during the height of the Cold War. He was stationed in Pakistan and Japan and spent some time in Vietnam. When his four years of military service was extended nine months, he was stationed in Key West, Fla., during the Cuban missile crisis.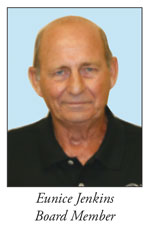 Eunice Jenkins, whose father, James L., was a chief warrant officer in the Tennessee National Guard, was strongly encouraged by his father to join his older brother and enter the National Guard as he finished high school.
It was 1961 and his father knew that the Vietnam War was escalating, Jenkins said.
He worked mostly in the Ripley unit's motor pool. He was sent to Memphis to help keep order during the garbage strike in 1968 and was sent back to Memphis after Dr. Martin Luther King Jr. was killed that April. He left the guard in 1968.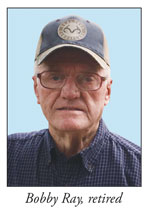 Bobby Ray joined the Tennessee National Guard around 1960. "A high school buddy and I talked ourselves into joining," Ray said.
           
He was in the Ripley unit, and like Jenkins, he was sent to Memphis during the garbage strike and again after Dr. King's death. Ray worked for Ripley Power and Light 37 years as a lineman.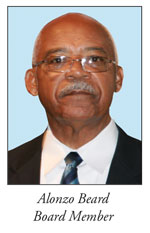 Alonzo Beard's combat experience in Vietnam ended abruptly one day when he was severely wounded while walking across a field on a mission to find the enemy. It was 1966 and the Vietnam War was in full force.
His U.S. Army unit was bombed the night before, and he and other members of his unit were trying to find the source of the mortar. "The lead man tripped a vine connected to a bomb," Beard said. "The bomb went off, injuring three of us. We were picked up by helicopters."
Wounded in his left shoulder, Beard spent several months in the hospital and, today, is a disabled veteran.
Beard was drafted, but had a deferment to finish his college degree at Tennessee State in Nashville before entering the Armed Forces. He was awarded the Purple Heart for his services.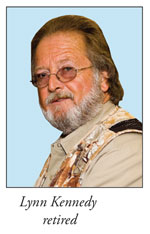 Lynn Kennedy spent four years on a Navy aircraft carrier, from 1973 to 1977. "I was a flight deck refueler and did whatever else the Navy needed."
His ship, the USS Forrestal CVA-59, was deployed to the Mediterranean Sea. The work was often dangerous and the days were 20 hours long, he said. "We'd fly for seven to 10 days straight."
The relief came, though, when the carrier went to port. That's when Kennedy visited countries like Spain, Italy, Greece and France. "It was nice," he said. "I told my wife it was all drudgery and hard work."
Another highlight of his service was being part of the Tall Ships event in New York Harbor during the 1976 U. S. Bicentennial. He saw President Gerald Ford and Henry Kissinger up close when they boarded his ship.
"We were not far from the Statue of Liberty," Kennedy said. "That was something really special."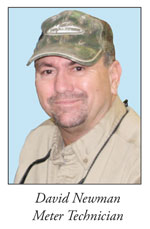 Bill and David Newman, who are distantly related, were Ripley High School buddies. They both enlisted in the U.S. Marines while still in high school and were shipped off to boot camp at Parris Island, S.C., two days after graduation in 1978.
"I wanted to see the world a little bit and get away from home for awhile," David said.
The high school friends parted ways after boot camp. David entered the Marines air wing and spent his three years as a Marine working on jet aircraft. He did travel the world, visiting countries like Denmark, Germany, England and Mexico. "It was a good experience," he said.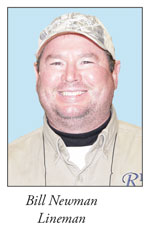 Bill, meanwhile, spent four years in the Marines and then joined the Tennessee National Guard. His Ripley military police unit was activated and then sent to Saudi Arabia after the start of Operation Desert Storm in January 1991. The purpose of the first Gulf War was to expel Iraqi forces, which had invaded Kuwait.
His unit escorted convoys and guarded prisoners. He didn't experience combat, but he remembers how easy it was to capture prisoners. "Most prisoners were starving and ready to surrender," he said.